My GTiR (Christchurch, New Zealand)
Owned a couple in very early 2000's including some track time.
Bought this one in August 2019, has done a few grass Motorkhanas and Autocrosses since.
Needs a set of new suspension bushes to tighten it up as feels a bit vague and very front heavy (more so than normal)
Enjoying getting back into a GTi-R.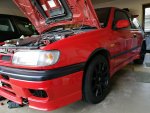 Last edited by a moderator: