Administrator
Staff member
According to the data available, the total number of Nissan GTI-Rs produced was
14613
- comprised of
13842 Pulsar GTI-R
(RNN14), and
771 Sunny GTI-R
(GNN14).
Pulsar GTI-R (RNN14) Production Numbers
The Nissan Pulsar GTI-R was designed and manufactured in Japan for the Japanese Domestic Market (JDM). Production ran from August 1990 until November 1994. The total number produced during those 4 years was 13842. Over 5000 of them were produced in the first 12 months (1990-91) in order for Nissan to fulfil the FIA Group A World Rally Championship homologation requirement at the time (which was 5000 units in 12 months prior) for the model to be eligible to enter the WRC.
During the 4 years of production, there were 2 distinct "Series" (obvious differences) across 5 "Phases" (minor changes) of production. They are clearly defined by their chassis numbers and commonly referred to as Series 1 and Seriers 2 (or Early & Late / Zenki & Kouki). Rather than being an evolution, Series 2 was mostly a de-specialisation or simplification of the manufacturing parts used in the lead up to the planned end-of-life of the N14 platform.
Series 1 (Early): Below RNN14-100000 (08/1990 to 07/1992)
Series 2 (Late): Above RNN14-100000 (08/1992 to 11/1994)
The first Phase of Series 1 was produced at Nissan's Tochigi plant (in the town of Kaminokawa, Kawachi District, Tochigi Prefecture, northern Kantō region). Plant code "M". The rest of production was entrusted by agreement to Fuji Heavy Industries (FHI) at their Yajima Plant (in the town of Shoyacho, Ōta city, Gunma Prefecture, northern Kantō region) on the same line as the Subaru Legacy and Leone. Plant code "9".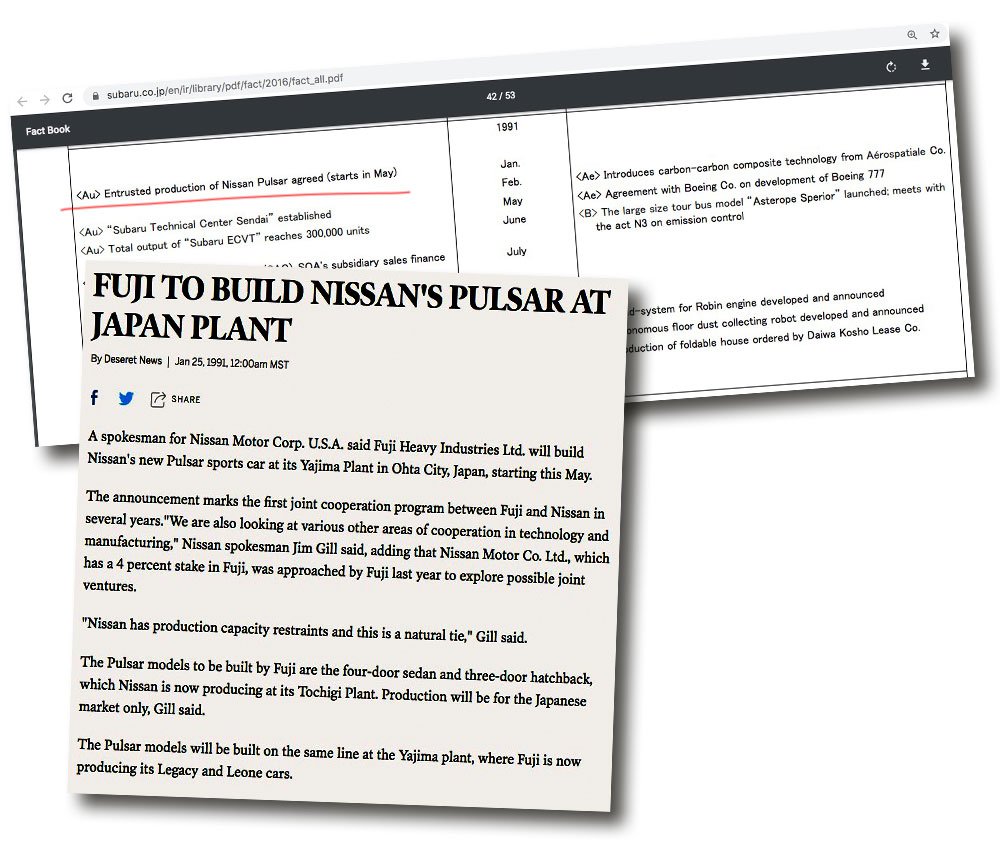 The Vehicle Identification Numbers (VINs) and build dates below have been sourced from Nissans in-house database software called "Nissan FAST", and cross-referenced using some of the many JDM VIN lookup (build date) databases now available online.

These are the 10 VINS missing - if you have one of these VINs PLEASE LET US KNOW!!!
RNN14-000523
RNN14-000531
RNN14-000540
RNN14-002381
RNN14-002389
RNN14-020915
RNN14-100001
RNN14-100002
RNN14-100005
RNN14-151191
GTI-R Model Types
There were 2 main models of the RNN14 Nissan Pulsar GTI-R sold on the Japanese Domestic Market:
GTI-RA: Model code EBYNRVFN14T*******
GTI-RB: Model code EBYNRRFN14T*******
The model code is printed on the VIN plate, located top-centre of the firewall in the engine bay.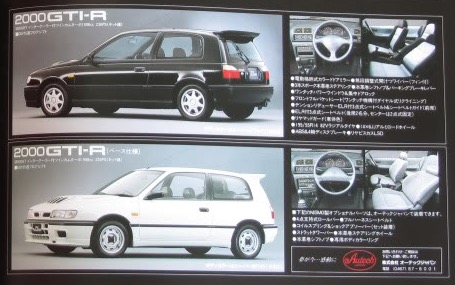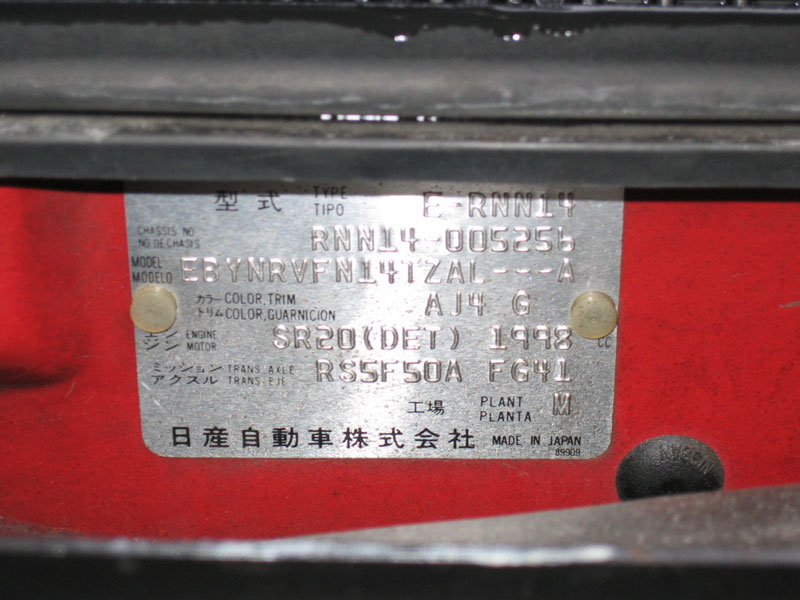 RA Models
Model code EBYNRV. The GTI-RA (aka RA, Alpha, Luxury) was the "normal specification" version.
Differences in the Series and Phases of the GTI-RA
Although the biggest changes were between series 1 and 2, Nissan made small changes in each phase of production. There were no changes to the engine internals, drivetrain or body panels.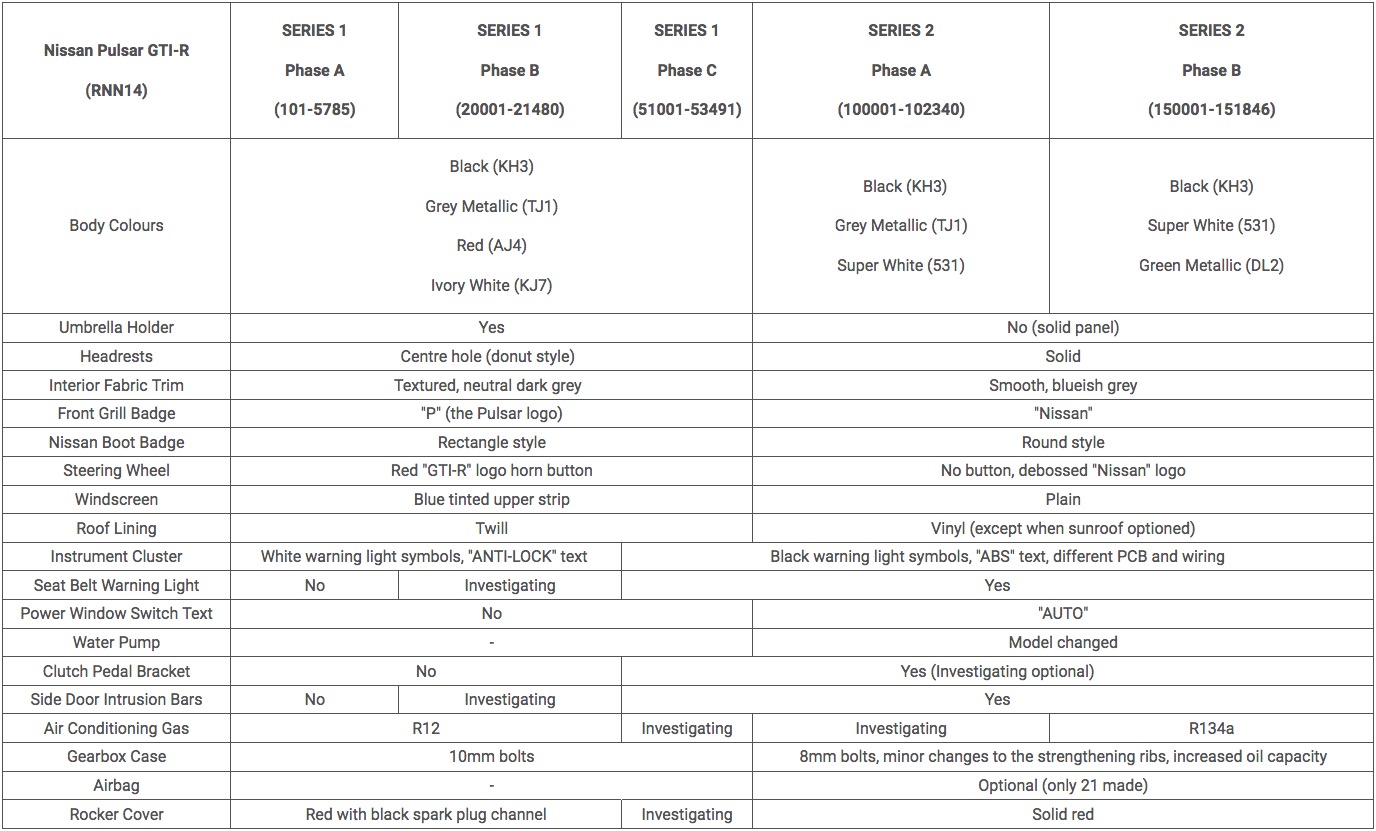 RB Models
Model code EBYNRR. The GTI-RB (aka RB, Base, Homologation) was the "base specification" version. It was used as the basis for FISA (FIA) homologation, and marketed for motorsport use. They had the "luxury" trimmings (such as ABS, air conditioning and power windows) removed as standard, came with throw-away steel wheels, and a ready-to-be-stripped interior trim from the base model Pulsar, all of which contributed to reducing the kerb weight by 30 kg (66 lb) to 1190 kg (2624 lb). Some of the normal (RA model) parts were available as an option. The engine, tuning and rest of the car was the same as the RA model, although most were optioned with a close ratio gearbox and mechanical front differential (see below).
Weight: 30kg lighter (non structural, the bulk via omssion of air con and power windows).
Closer-ratio gearbox (option - 77% fitted).
Side mirrors: Black plastic (not colour-coded, standard - no power adjustment, could be optioned).
Umbrella holder: None (a vent in place, standard).
Rear diff housing: Larger cooling fins (standard).
Wheels: Steel (standard).
Rear wiper: None (option - 40% fitted).
Air conditioning: None (option).
Power Window: None (option).
Interior: Base-model Pulsar (vinyl trim, basic seats, rubber gearstick boot, plastic gear knob, plastic steering wheel, standard).
Exterior paint colour: Standard colour was Ivory White KJ7 (59% chose to keep it) but all colours could be optioned.
Front LSD: Nismo mechanical (option - 80% fitted).
ABS: None (not an option).
There were also many (over 100!) Nismo parts available, some were more commonly fitted than others.
GTI-R Model Options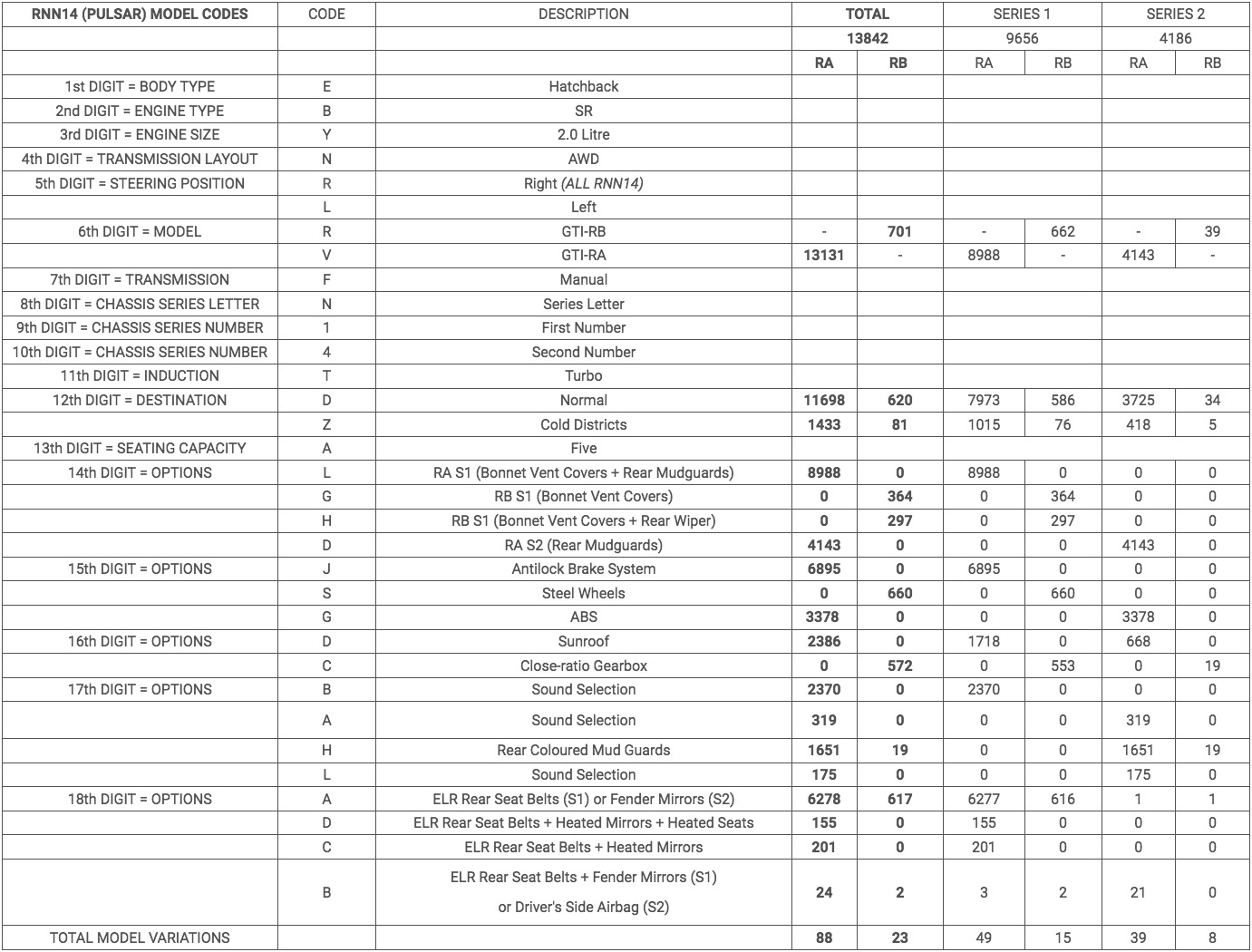 *These descriptions have been translated to English from the Japanese text in the official Nissan FAST software.
NOTE ON "ELR Rear Seat Belts":
"Emergency Locking Retractor" (ELR) belts contain an interia reel which locks under sudden movement. They are the only type used in the front seats. In the rear seats, the cars that did NOT have this option had "Automatic Locking Retractor" (ALR) rear seat belts, which lock into place once connected and tightened (commonly used for securing child seats).
Autech Vehicles
The unofficial term "Autech GTI-R" describes a base model that was originally ordered with options that required factory install.
Autech
is a "special vehicles" division of Nissan (similar to, but separate from, Nismo). Their core focus is related to "mobility" (ie. vans with wheelchair access), although they have also been involved in some performance models (particularly during the 1990s when the Nismo division was very focused on motorsport).
Unlike some of the other "sports" models during the '90s (such as the Skyline, Stagea, Silvia, and Primera), Autech did not produce a named "Edition" or "Tuned" version of the GTI-R, they were just responsible for the factory installation of certain optional parts in RB models (ones beyond the level of dealer installs). The parts installed were not a pre-defined "package" (except in the case of the Nismo models - see below), rather, they were based on individual customer orders, and could include items from both the Nissan and Nismo option catalogs (ie. roll cage, suspension, diffs, harnesses, seats, etc).
Some examples were specified at pre-production stage, and those were recorded in the Nissan FAST database as "Autech Vehicle", whereas it is clear that others must have been ordered post-production, and as such have no such record.
There was no special tuning or modifications done to any of the cars that went to Autech, and there was no special numbering, plaques or badges - just a small oval-shaped "Autech Japan" sticker applied to the boot (trunk) below the GTI-R badge (which is available to purchase as a spare part from Nissan).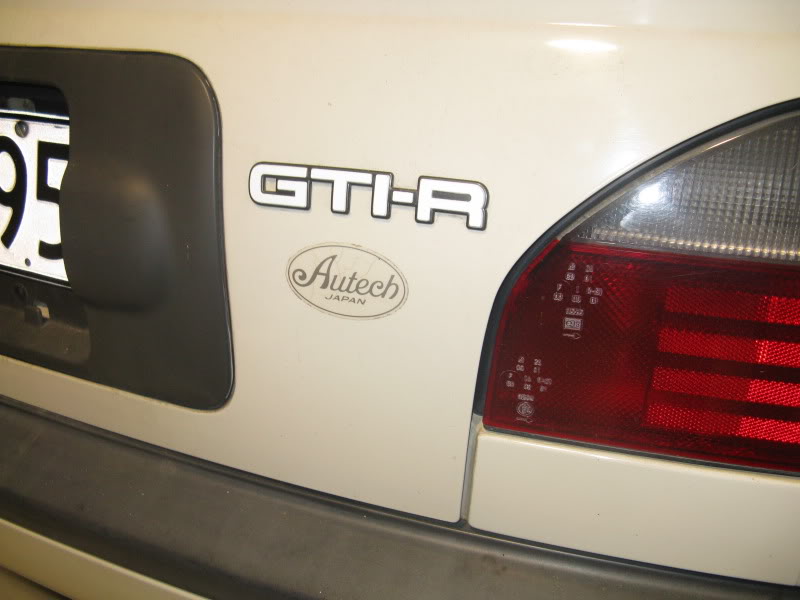 The Green Models
There were exactly 100 examples produced in colour code DL2 (Greyish Green Metallic, aka Mist Grey Metallic, aka Winter Green), all during Series 2. There were 98 RA and 2 RB versions produced: 59RA+1RB in 1992-93 (Series 2, Phase A), and 39RA+1RB in 1993-94 (Series 2, Phase B).
DL2 was a standard colour for the rest of N14 Pulsar model range, but not for the GTI-R, and it does not appear as an option in any of the known catalogues or brochures. With only 100 produced they are by far the rarest of the factory colours (next rarest is KJ7 with almost 800 examples). Nissan Japan has been unable to confirm the significance, but such a specific number strongly suggests some kind of special limited production run. The most logical theory is that it was part of the Nissan 60th anniversary commemorations in 1994 (Nissan released several "60th Anniversary Special Editions" across their range starting in 1993, including the Pulsar, Cedric, Laurel, Prairie and Skyline).
Another theory is it was in celebration of the marriage of Crown Prince Naruhito to Masako Owada in 1993 (but this is unlikely since some examples had already been produced before the engagement in Dec '92 or the wedding was announced in Jan '93).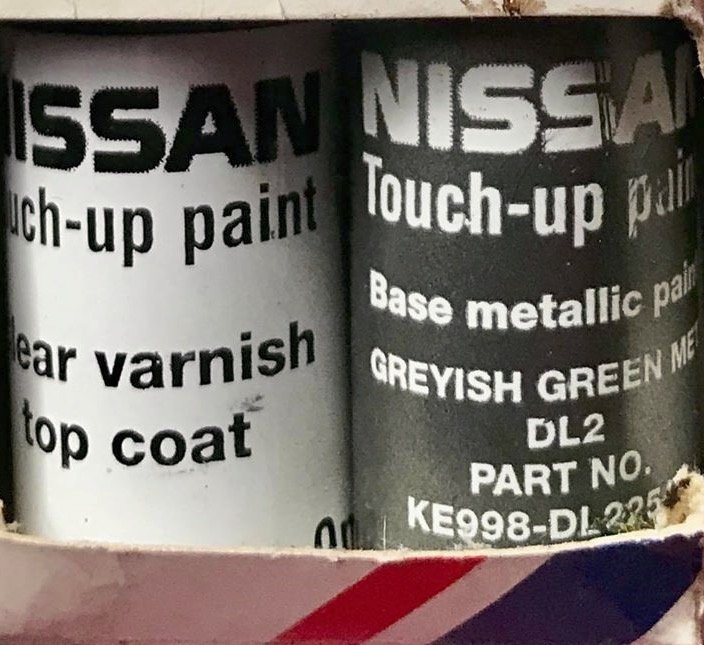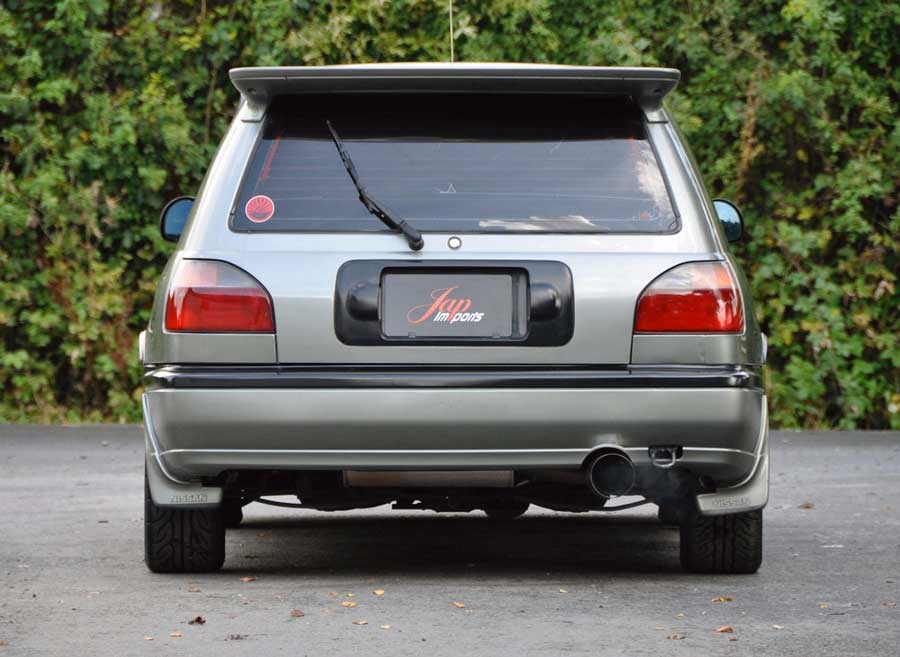 Nismo Models
Nismo
offered a "Complete Car" version based on the RB. Marketed as the "GTI-R Nismo" it featured a pre-defined list of many of the Nismo rally options (suspension, diffs, seats, roll cage, foot rests, underbody guards, strut tower strengthening, no carpet or rear seats, etc - see below). Unlike most of the other Nismo "Complete Car" models of the era (ie. 400R, R34 Z-tune, March S-Tune), no engine changes were made, and for unknown reasons it is not listed on the Nismo website "Complete Car" archive. The price in base configuration was 3,140,00 yen. Nismo Japan confirmed via email in 2010 that only 21 of them were produced. They had an individually numbered Nismo plate on the firewall (in addition to the standard VIN plate), and a Nismo badge below the GTI-R badge on the boot. The "livery" was optional.
We have records of 4 of them so far (#005, #010, #020 & #021). If you are an owner of one of the others please let us know!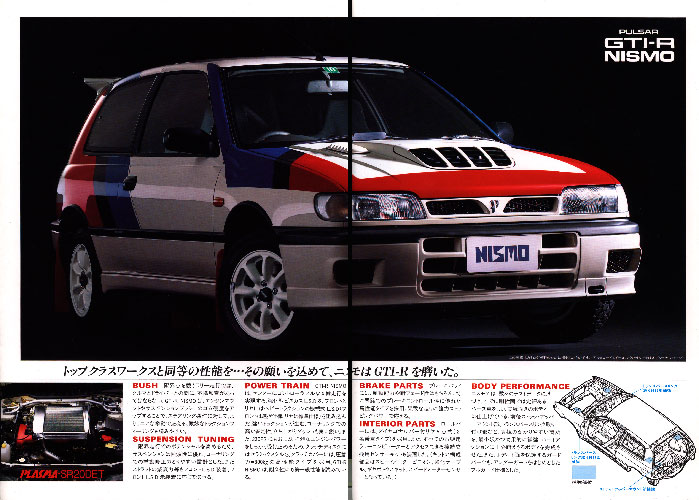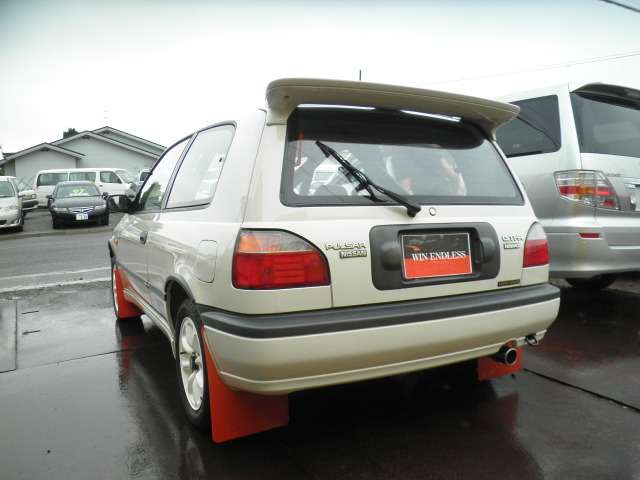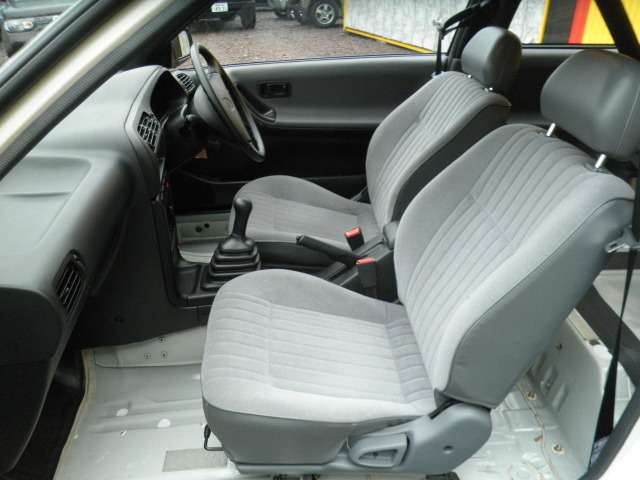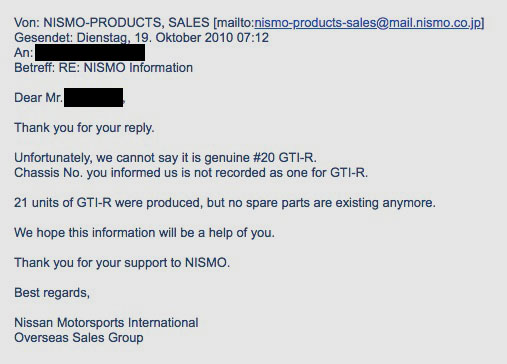 Last edited: